Moog Minimoog Model D 2022 Edition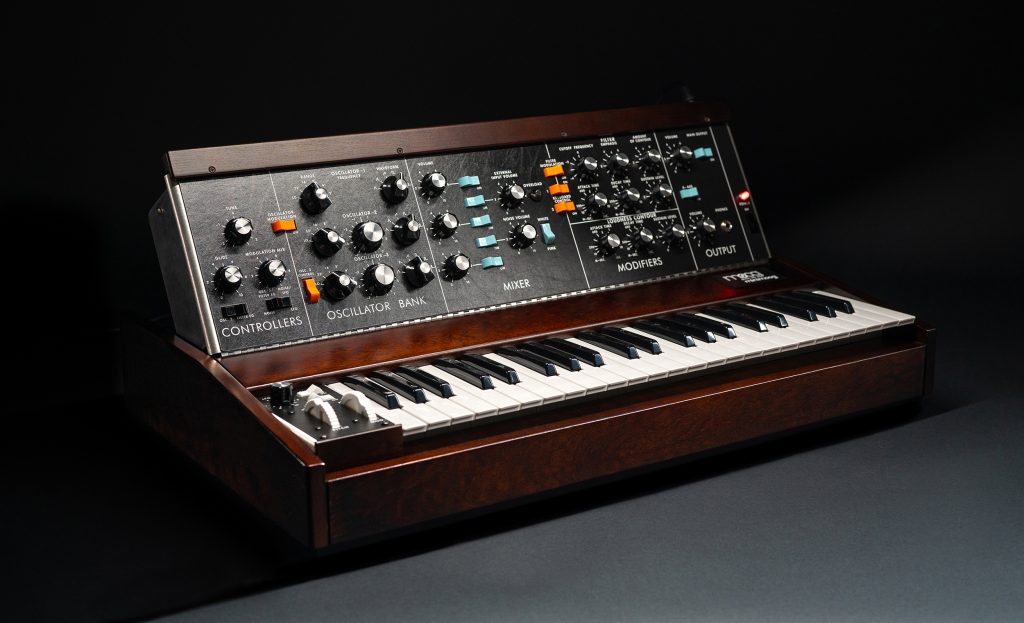 It's back! Moog återupptar produktionen av Minimoog Model D reissue. Precis som originalet så är Model D monofonisk med tre oscillatorer och klassiskt Moog Ladder Filter. Funktioner i 2022 Edition är stabilare oscillatorer, utökade modulationsmöjligheter, MIDI, feedback-kontroll, Fatar TP-9 klaviatur med anslagskänslighet och after pressure samt fjäderbelastat pitch-hjul.
Art. nr: MO-MINIMOD
Listpris:

 65 995 SEK

 45 132 DKK
Originally released in 1970, Minimoog Model D was the world's first portable synthesizer and served as the archetype for all electronic keyboards that followed. The all-analog instrument gained acclaim for combining the colossal sound of the 1960s Moog modular synthesizers with the accessibility of pre-wired modules—meaning that it could be played instantly and intuitivaely with no patch cables required. It was quickly embraced by a diverse roster of performers, with artists like Herbie Hancock, Kraftwerk, Rick Wakeman, Sun Ra, Piero Umiliani, Giorgio Moroder, Bernie Worrell, and Gary Numan all shaping unique sounds and forging new musical genres using the instrument.
More than a half-century since its invention, Minimoog Model D is back in production at the Moog factory in Asheville, North Carolina. An exceptional sonic tool and one of the most beloved and iconic synthesizers ever designed, it returns to the hands of synthesists of all kinds and serves as inspiration for the next generation of electronic musicians.
The three-oscillator, monophonic, analog synthesizer is securely housed in a locally sourced Appalachian cherry cabinet and hand-finished aluminum chassis. Sounding as vibrant and deep as ever, its legendary low-pass ladder filter, powerful oscillators, and rich saturating mixer retain the exact component placement and through-hole design of a 1970s-era Minimoog Model D.
While no changes have been made to the original sound engine or audio signal path, the 2022 Minimoog Model D includes a series of popular functional modifications that expand this legendary instrument's sonic capabilities. These modifications include a dedicated analog LFO with triangle and square waveshapes, a premium Fatar keybed with velocity and after pressure available via top panel CV jacks with onboard trimpots, MIDI integration, and a mixer feedback modification which allows the Minimoog Model D to overdrive and scream with the turn of a knob. And, for the first time in its history, the Minimoog Model D now features a spring-loaded pitch wheel with center deadband, allowing for improved playability and wild performance flourishes.
Minimoog Model D ATA Road Case

Skydda din investering med denna träcase specifikt designad för Minimoog Model D.
Art. nr: MO-MINIMOD-ARC
Listpris:

 11 695 SEK

 8 090 DKK
The Minimoog Model D ATA Road Case is a high-quality, custom-crafted touring enclosure designed specifically for your new Minimoog Model D. Travel with confidence knowing that your analog investment is safe, secure, and protected from the rigors and abuse of touring. Features a retractable handle and wheels for easy transit.
Minimoog Model D SR Series Case

Skydda din investering med denna robusta gigbag specifikt designat för Minimoog Model D.
Art. nr: MO-MINIMOD-GIG
Listpris:

 4 695 SEK

 3 248 DKK
Moog Music SR Series Cases feature generous padding around a semi-rigid A.B.S. shell, a rugged Ballistic Cordura outer that resists tears and abrasions, and laminated water-resistant zippers to offer on-the-go protection and safe storage for your instrument. Multiple strap and handle configurations keep your commute comfortable, and multifunction pockets ensure you're organized on arrival.

Skydda din investering med detta dammskydd specifikt designat för Minimoog Model D.

Art. nr: MO-MINIMOD-GIG
Listpris:

 850 SEK

 588 DKK

Protect your Minimoog Model D when not in use. This water-repellant dust cover is made from rugged Ballistic Cordura to safeguard your gear from dust, spills, and other studio (and stage) mishaps, while the ultra-soft interior remains gentle against your synth. This cover is designed to fit your Model D with the control panel in the "down" position and features a Velcro flap for rear I/O panel access.