SPACE MAX – Makes meetings sound better!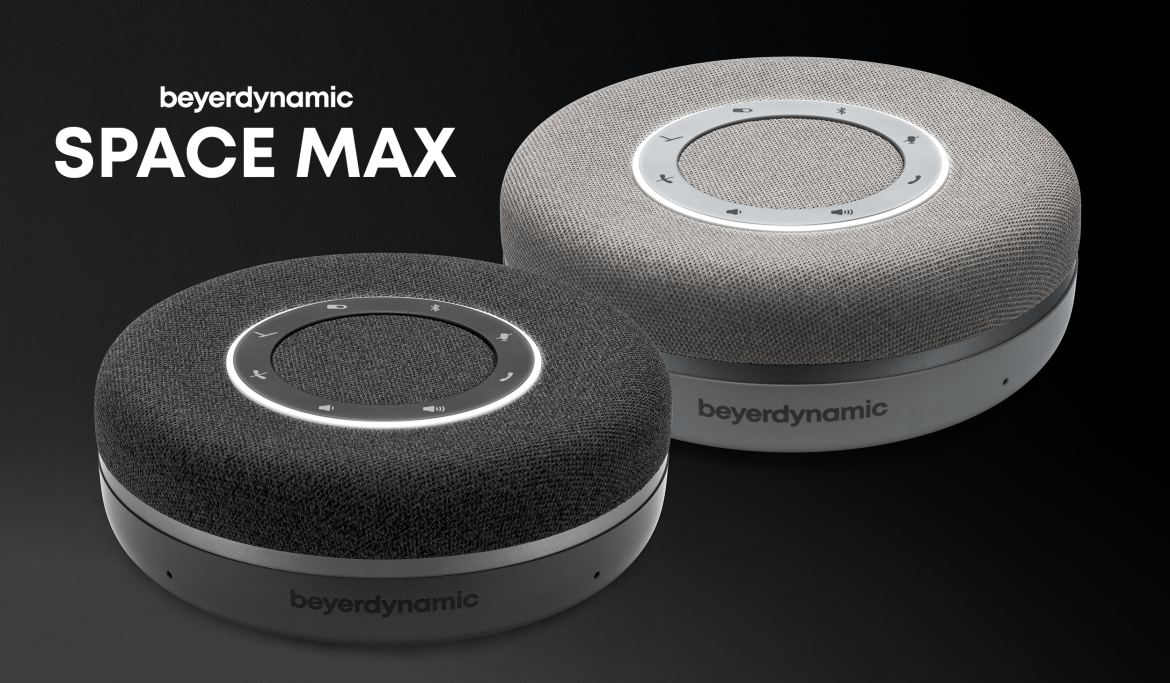 SPACE MAX
Uncompromising performance and reliability: The beyerdynamic SPACE MAX speakerphone combines great speech intelligibility and outstanding audio quality for speech reproduction, multimedia and music. Whether it's in a large meeting room, huddle room, or individual office – beyerdynamic SPACE MAX is the perfect plug-and play solution for hybrid working.
Maximum sound quality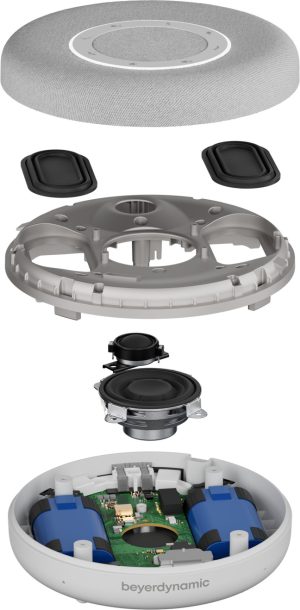 With its high-quality speaker system, beyerdynamic SPACE MAX offers the maximum in sound – perfect for speech reproduction, media and music. The multifunctional speaker independently switches between Voice Mode for intelligible speech reproduction and Music Mode for lively music playback.

360° smart mic technology
The integrated 360° SMART MIC TECHNOLOGY ensures maximum freedom of movement for telephone calls or large meetings with up to six participants (in Conference Cascade mode up to 12 people).
Thanks to beamforming technology and state-of-the-art signal processing, the microphone system with four MEMS microphones automatically detects whether the incoming sound is voice or noise. Unwanted reverb, echoes and feedback are immediately suppressed. beyerdynamic SPACE MAX sets new standards in echo cancellation technology.
To ensure the best possible conversation quality, beyerdynamic SPACE MAX automatically adjusts the volume of all voices. Full-Duplex also allows participants to speak and be heard simultaneously – without any interruptions.
Award-winning design
beyerdynamic SPACE MAX is inspired by current design trends and is a true visual highlight – both in the individual office and in the meeting room. 
No wonder that beyerdynamic SPACE MAX was also awarded the renowned Red Dot Award for outstanding design. The backlit LED panel offers intuitive ease of use and access to all important functions during calls or music playback. The IP64 certification also protects against dust and splash damage.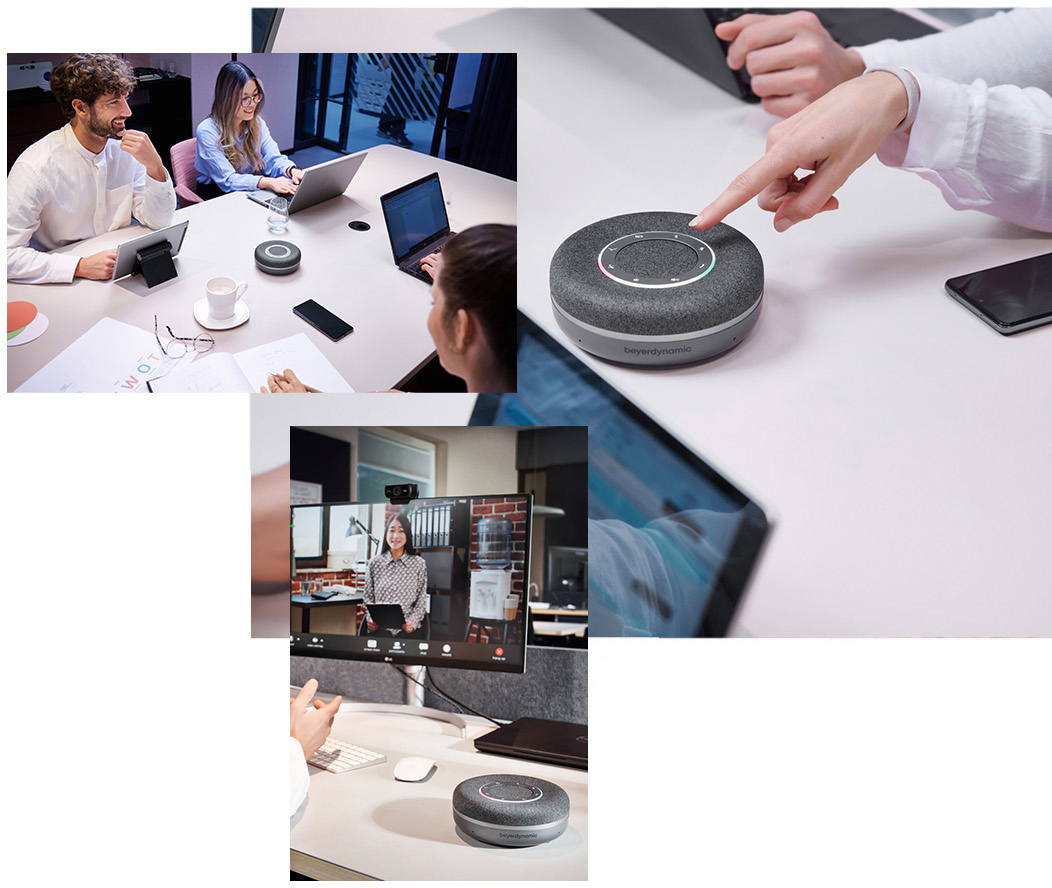 Masters every meeting
Leaves nothing to be desired: beyerdynamic SPACE MAX meets all requirements for successful hybrid meetings. A meeting can start within seconds.  The speakerphone is also suitable for large meetings, as two devices can be paired with the optional Cascade Cable SPACE MAX. The Business Mode ensures that unwanted nearby Bluetooth® devices will not connect – so confidential data can be exchanged without worry. With the integrated Kensington lock, beyerdynamic SPACE MAX can also be secured in public meeting rooms.

Extensive platform compatibility
Thanks to compatibility with all common communication platforms such as Microsoft Teams® and Zoom, telephone calls, virtual meetings or hybrid seminars can be started quickly and easily. beyerdynamic SPACE MAX is officially certified for Zoom and compatible with Microsoft Teams®.

Fast and cleverly connected
Thanks to Plug-and-Play functionality, beyerdynamic SPACE MAX can be connected to a laptop, smartphone or tablet within seconds via USB or Bluetooth®. Pairing is even faster for users of Android devices thanks to Google Fast Pair. With the included USB cable and USB-C to USB-A adapter, you'll be prepared for all relevant connection types. The optional USB WL Adapter ensures extended compatibility between the speakerphone and communication apps.

More power in everyday work
When developing beyerdynamic SPACE MAX, we tasked ourselves to create a speakerphone that offers maximum flexibility at all times. Thanks to the battery life of at least 25 hours, constant charging and worrying about the battery level are a thing of the past. When things do need to move quickly, beyerdynamic SPACE MAX features a Power Delivery fast-charging function, so the device is ready to go again in no time. If the battery level of your own smartphone or tablet is low, use beyerdynamic SPACE MAX as a powerbank.

Key features
– Speakerphone for phone calls and meetings using audio and video call apps, such as Microsoft Teams® or Zoom (certified)
– Handsfree solution in medium to large meeting rooms, huddle rooms and individual offices
– Easy connection via Bluetooth®, USB or USB WL adapter
– Modern, user-friendly design with IP64 certification to protect against dust and splash water
– 25 hours of battery life (in voice mode) with integrated Power Delivery fast-charging function and powerbank mode
Suggested retail price:

 4 899 SEK

 3 120 DKK
Art nr: BE-SPACE-MAX-CHARCOAL / BE-SPACE-MAX-NORDIC
ETA: Soon in stock
All prices are suggested retail prices including VAT. The suggested retail price is subject to change so always check our product database for price updates.